Bardbarian is Evolving
Hey everyone! I'm Mike Gaboury, the artist/animator for Bardbarian.  Super excited to be working on a game, this has always been a dream of mine, and I can't wait to see how it goes.  Ideally I will be posting progress, artwork, animations and general rants and ramblings as I go, hope you enjoy.
After spending quite some time looking at Bardbarian, I found myself not enjoying him as a character so much anymore.  With a main character, you (usually) want someone likable and charismatic, and someone people will enjoy playing as, perhaps even relate to, and the more we worked on the game, the more I realized he wasn't that character.  So after a few rounds of sketching, feedback from friends, and researching more about better character design I ended up with what you see here (not final artwork.)
As you can see, he has undergone quite a few changes:
From flute to lute! I felt that the flute (while funny) was in the way of his face, and made the design really busy and top heavy, not to mention the silhouette was a little unreadable.  Changing to an axe-lute felt almost natural for a Bardbarian to use as his weapon of mass inspiration.
Somewhat simplified wardrobe, removed the "medallion" as it would just interfere with his newfound axe-lute.
His beard felt too heavy and just a big mass of yellow, so I gave it a bit of a trim and style to make it more interesting, y'know?
After discussing with friends about who Bardbarian is and why he is saving his town, we came to the conclusion that because he doesn't want to fight anymore, and just wants to play music, that he should look happy instead of angry.
Bardbarians are usually quite shirtless, so it didn't make sense for him to be so pale, still debating adding scars to show that he is weathered and tired from previous battles.
Below are a few of the other Bardbarian concepts, as well as some of the clothing/armor concepts for our new character.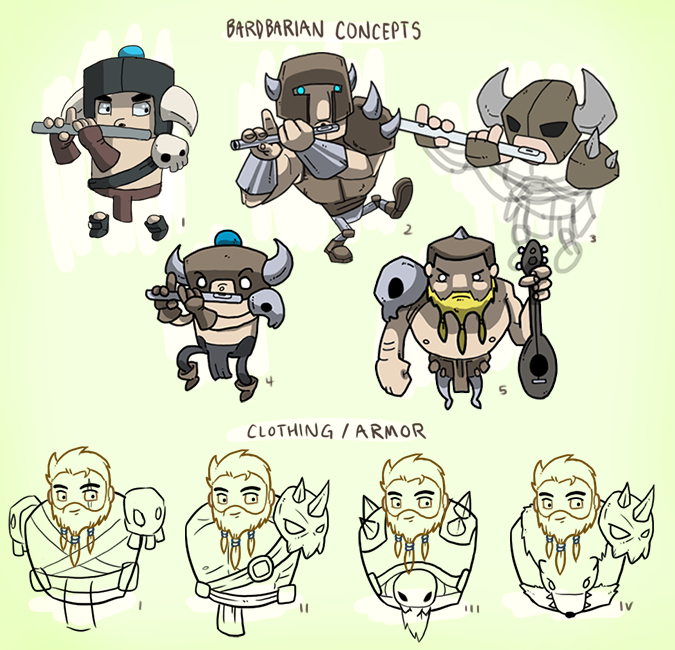 Thanks for reading!
-MG