JumpJet Rex - Available Now in Early Access!
This post is a bit overdue, but if you haven't noticed by now, our latest title JumpJet Rex is available on Steam Early Access!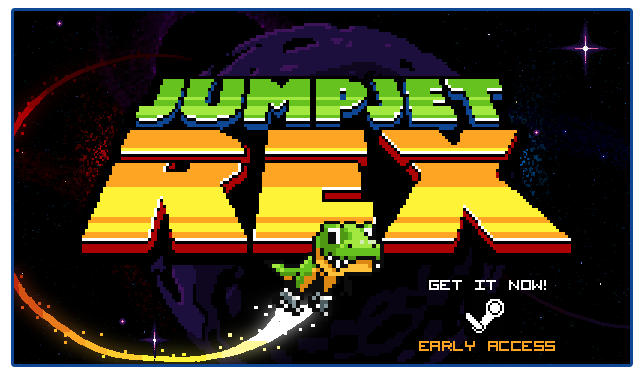 If you missed our announcement post, JumpJet Rex is a punishing, old-school platformer with a modern time-trial twist! You can imagine it as a mashup of Mario and Trials HD, with a little MegaMan thrown in on the side.
It's a bit tricky to explain, but here, watch this:

Here's  quick preview of the game from IGN that goes in a bit more depth: http://ca.ign.com/articles/2015/01/16/jumpjet-rex-control-an-8-bit-dinosaur-who-can-fly
Why Early Access?
When we worked on Bardbarian, we had a ton of great suggestions from our Steam users, but we just didn't have give ourselves enough time to implement most of them. This time, we're embracing the community support, and can't wait to see how it turns out!
We plan on staying in Early Access for about 10-12 weeks, and are expecting to launch some time near the end of March, 2015.
Consoles?
Yes! We're currently evaluating our options and potential partners in the console space, but we have our eyes firmly set on Sony/Nintendo platforms.
Stay tuned!