Bardbarian DevBlog 2: The mega-update
Hey guys, sorry for the long gap in updates, we've been heads down for the last few weeks with little time for writing posts.
This update will be pretty massive, I'm not sure when we'll get time to do another so I want to pack this chock full of all kinds of goodness!
Title Screen
One of the things we recently completed was our title screen. It's an important part of any game, as an opportunity to set user's initial expectations as to how great of an experience they're about to embark on, and help determine if it's worth investing their time and energy. Most "AAA" mobile titles have beautiful, interactive title screens, and we really wanted to impress on that front. We wanted the screen to have some sense of drama, with a pinch of exploration.
Initially it started with some rough sketches for what we might want for the title text and logo:


After getting everything sketched out, it was on to final artwork. At this point, Mike realized he hated our main character, and decided he needed a make-over. Fast-forward 3 or 4 days, and the final Bardbarian is reborn:


Another week later, and we had our final concept: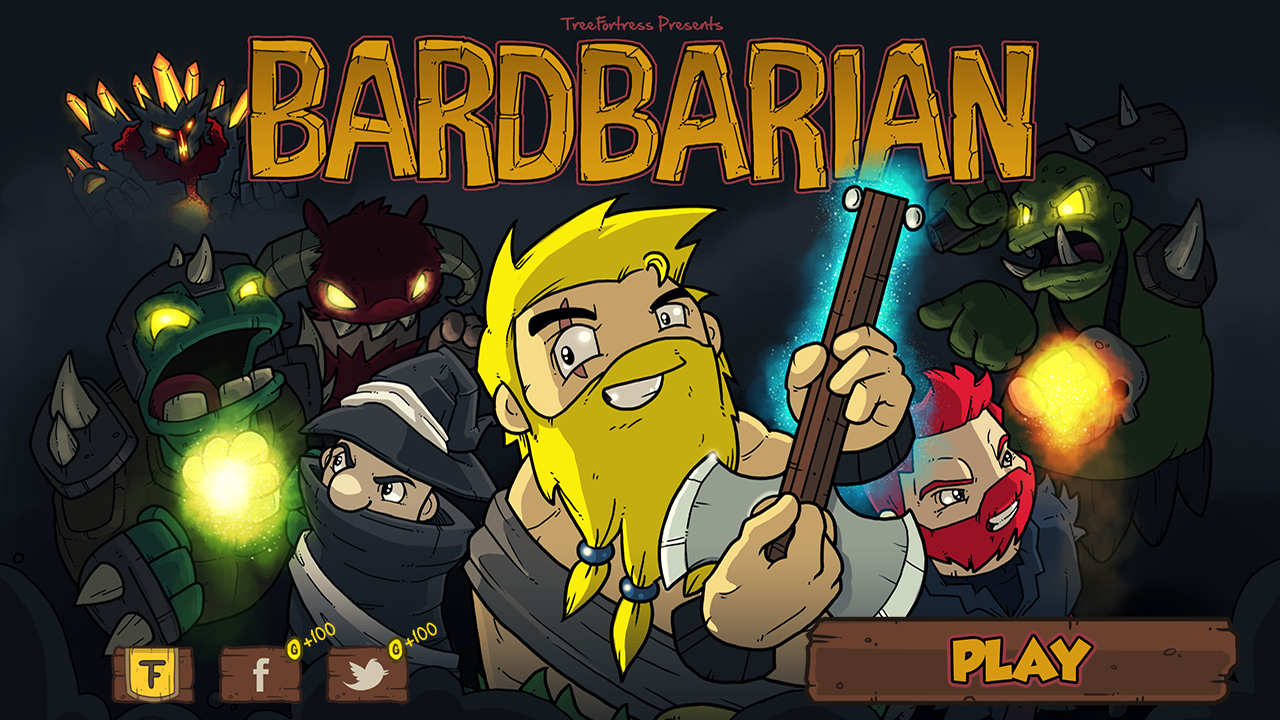 At that point it was my turn to make things dance! I took images from the comp and created a giant Spritesheet. Over the next two days I choreographed animations, added particle effects, clouds and some fun parallax. You can see the finished results here:
BardbarianTitle from TreeFortress on Vimeo.
The Shop
The next major part of the UI that we tackled was the Shop.
We really put a TON of effort into this section of the game. It needed to be extremely easy to use but also full of character — after all, this is where the player will spend the majority of their time (and money!) when not immersed in gameplay.
We began with some rough sketches (as always). The only thing we knew we wanted for sure was our Shopkeeper, lets call him…Mario-san 🙂
We decided that the Shopkeeper was so important, he must be fully animated. Mike spent a day rigging up some animations for him in Spriter.
After a few iterations we had the final comp:
Again it was now my turn to strap some code onto these assets. I began building the UI in Starling, adding Smoke effects to the old man's pipe, animating the Candle, adding a masked-scroller to the upgrade panel, adding "Flip" animations to the cards, etc etc etc!
Although everything went really quickly this still ended up being a solid two weeks worth of work. Neither of us love to work on UI, so we were glad to be able to move on from this, at the same time we're super proud of how it turned out!

BardbarianStore from TreeFortress on Vimeo.
Game UI (aka The HUD)
The final thing I want to talk about today is the UI for the main game itself. There's not alot to say about this process, it was alot of trial and error as we tried to find the best way to use the screen real-estate.
Eventually we settled on having everything right-aligned, which leaves the entire left-hand side for the virtual joystick. Here's a a rough initial sketch:
We continued to refine, polish and experiment, until we came up with the final design:
And finally, here's some rough, beta-quality gameplay from the latest version:
And with that, this is a wrap! Thanks for checking us out, and stay tuned for more fun stuff soon, including a public beta!